The march follows a long tradition of protests organized by women. Many happened in the US, including the March on Washington in support of the Equal Rights Amendment in 1978, and the Million Women March, a movement of African American women which took place in Philadelphia in 1997. The Women's March was a worldwide protest on January 21, 2017, the day after the inauguration of President Donald Trump. Tensions rose due to statements made by Donald Trump, considered by many as anti-women or otherwise offensive. It was the largest single-day protest in U.S. history.
Here are other examples of previous demonstrations from around the world, and the impact they had on politics. Have one we didn't include?  Tell us about it in the comments below.
Women's March on Versailles:

 Paris, 

October 5, 1789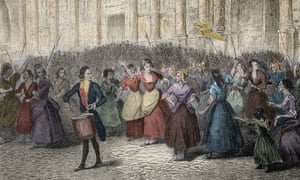 Women's Suffrage March: London, June 17th, 1911
Over 60,000 women marched through the streets of London demanding the right to vote and to highlight the global camp. Under a banner featuring an elephant and emblazoned with "India" marched a group of South Asian women. Showing unity, women from colonized countries took to the streets hoping to gain equal rights as well.  The Indian delegation, was modest comparatively but their impact was great. Officials and the press took notice and the marched received more coverage.  
Women's Suffrage Parade: Washington DC, March 3, 1913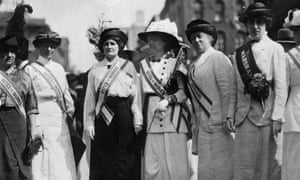 A number of suffrage parades occurred in the early 1900's.  This one, held in Washington DC, was planned for the day before the inauguration of President Woodrow Wilson for maximum press attention. Thousands took part in the parade which sought an amendment to the constitution, allowing women the right to vote. After the march, at least 100 were hospitalized for injuries inflicted by spectators. The march was part of the years-long movement for women's suffrage – and more marches followed, including a massive demonstration in New York in 1915.
Women finally were granted the right to vote with the ratification of the 19th amendment in 1920.
Women's March on Pretoria: South Africa, August 9, 1956
Protests against the pass laws took place before the women's march and continued after, which finally lead to the laws being repealed in 1986.
The anniversary of the women's march is now celebrated as National Women's Day in the country and the month of August is known as Women's Month. The march was re-enacted in 2006 for the 50th anniversary. 
Women's Strike: Iceland, October 24, 1975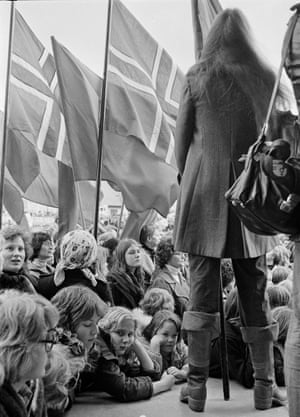 In 1975, women were underpaid and underrepresented in government. So they decided to strike. They called it   "Woman's Day Off", to demonstrate their importance to society. On 24 October of that year, 25,000 women gathered on the streets of Reykjavik (in a nation of 220,000) and 90% of the female population did not go to work, cook, clean or take care of children.
It was a wake-up call and a spur to action for Iceland. Vigdis Finnbogadottir became the nation's first female president five years later, and credits that day with helping her get elected; other landmarks followed. But the pay gap still exists in the country, and there is still room for improvement.
Last October, on the anniversary of the strike, women left work at 2.38 pm to symbolize the continued pay gap.
Abortion Ban Protest: Poland, October 2016
Politicians in Poland sought to further restrict abortion access in the country by proposing a ban on abortion in all cases and a prison sentence of up to five years for women who undergo the procedure.  Doctors who assist would also liable and sent to prison. Thousands of women, many dressed in black, boycotted their jobs and classes and took part in protest demonstrations in October. About 30,000 had gathered in Warsaw's Castle Square, chanting. Their efforts resulted in the parliament backtracking and overwhelmingly rejecting the total ban.
Protests resumed later in the month, after the introduction of a new proposal which sought to ban abortion when there is no chance the fetus will survive or in cases of severe abnormalities, and Polish women resolved to keep up pressure over the restrictions. 
Women Against Violence: Argentina, October 2016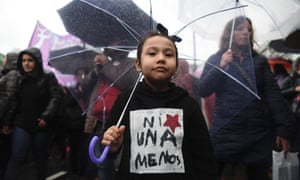 In June 2015, women in Argentina took to the streets to protest the killing of 14-year-old Chiara Páez, who was a few weeks pregnant and beaten to death by her boyfriend. Demonstrators rallied around the slogan and hashtag #NiUnaMenos – meaning "not one less", or no more women lost to gender violence. The protest was aimed at drawing attention to gender-based violence in which one woman is killed approximately every 30 hours in Argentina alone.
The following October, 16-year-old Lucía Pérez was drugged, raped and tortured in a horrific attack. The prosecutor described the attack as "an act of inhuman sexual aggression". On 19 October 2016 – "miércoles negro", or Black Wednesday – tens of thousands gathered in Buenos Aires and cities around South America to protest about the death of Pérez and those of other women dying because of gender based violence.
After the first protest in 2015, the supreme court justice Elena Highton announced there would be a registry of femicides established. 
New Year's Day 2019, India
On New Year's Day, as many as 5 million women stood shoulder to shoulder in southern India creating a human wall over 300 miles long to protest sexism and oppression in what was recently names the world's most dangerous place for women.Participants raised their arms with clenched fists and demanded a more inclusive future, one with higher quotas for women in government and better access for women in lower castes.  
This started as a protest against being banned entry into a prominent Hindu temple. The Sabarimala shrine was historically closed to women of "menstruating age", defined as women ages 10-50.  Protesters outside of the temple have attacked women whenever they have tried to enter since the government lifted the ban a few months ago.
Sources: The Guardian, Wiki, Culture Trip, SAHO South African History Online, @brownhistory, Associated Press
Our company and signature lipstick are all inspired by the tenacity of women fighting for their rights. Check out this ORIGIN STORY ⬇!
In the early 1900's when women were fighting for their right to vote, a certain cosmetics store owner would stand outside her shop on 5th Avenue in New York City and hand out red lipstick to the women marching by.  Elizabeth Arden was the first women to own her own shop on 5th Avenue in NYC. She herself joined the famous march in 1912.  Soon after, all the women who marched donned red lipstick.  It became a symbol of resistance. Women were tired of being treated as second class citizens and wanting to have their voices heard.  Upon further research, I found that wasn't the only time in history lipstick was a symbol for the feminist revolution.  Strong women have been standing up to oppression and using bold lips colors to help since the beginning of time. We named our signature color Resistance Red in honor of this rich history.  Check out our signature color and winter collection here. A portion of the proceeds support organizations that share our values of empowerment and equality. Use code NASTYBLOG for 15% off your order.